Työvene breaks into the offshore wind sector
Työvene has secured an order for three hybrid-ready SWATH CTVs from the Scottish company Maritime Craft Services (Clyde) LTD (MCS). This order marks the entry for Työvene into the rapidly growing offshore wind market.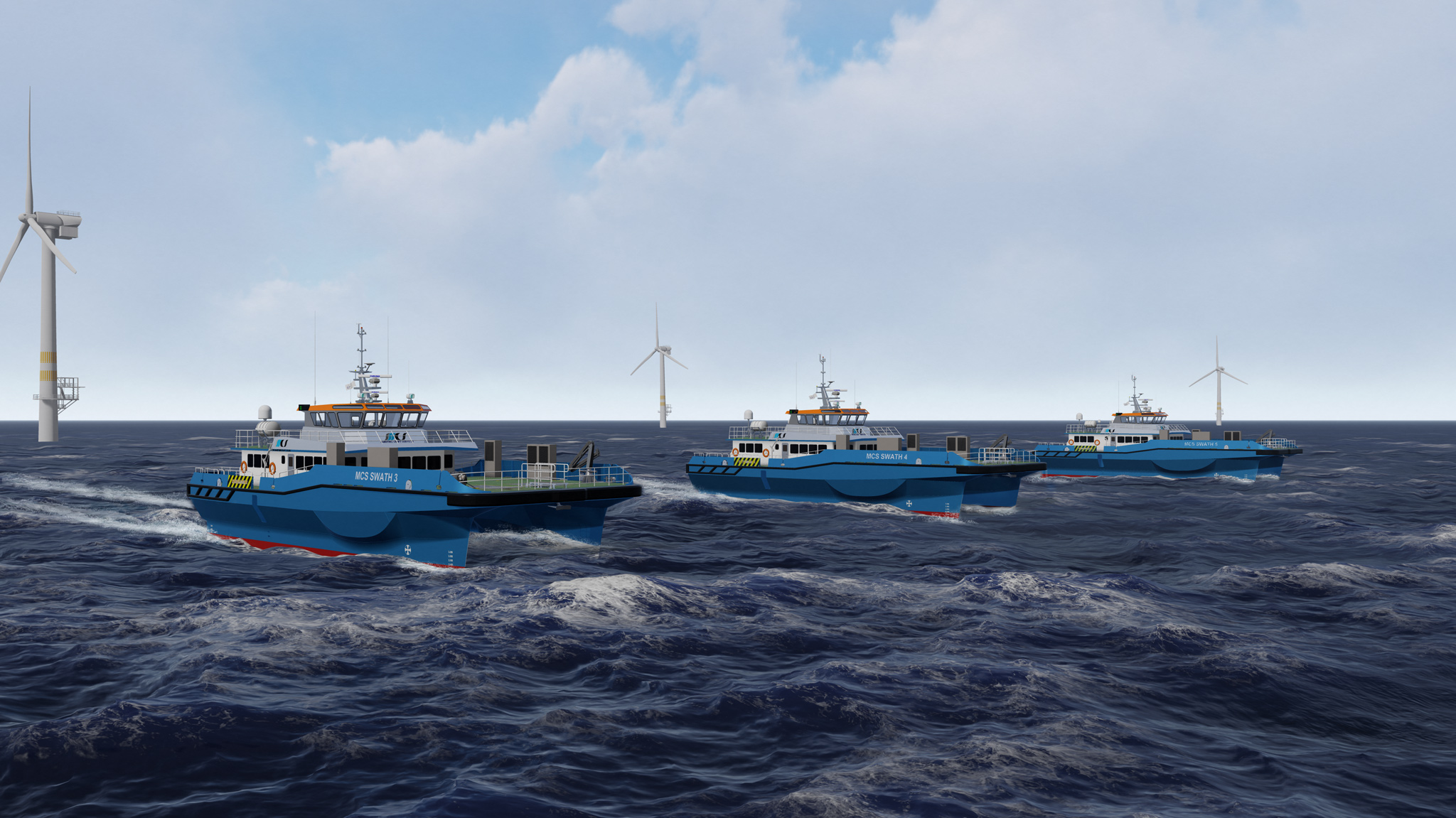 A SWATH (Small Waterplane Area Twin Hull) is a type of twin hull vessel designed for exceptional seaworthiness and minimum motion of the ship. Reducing the ship's volume near the surface, where waves develop their greatest power, minimizes the vessel's response to high seas, both at high speeds and when idling.
– The major advantage of the SWATH design and its superior response to high seas is that the vessel can operate up to an extra 100 days a year compared to a conventional catamaran that has to stay in port in rough weather, adds Menno Kuyt, Commercial Director at MCS and operator of already two SWATH units. Industry wide a SWATH is regarded as the best seakeeping and safest CTV on the market. MCS, established in 1976, is the front runner in having configured to operate a SWATH CTV most economically.
– SWATH designs are highly sophisticated and only a few ship builders around the world have the required know-how to build them.
– SWATH designs are highly sophisticated and only a few ship builders around the world have the required know-how to build them, says Nils P. Olschner, Director Sales and Business Development at Työvene, a shipyard of Nordic Yards Group.
– The type of ship that we are building in close cooperation with Ad Hoc Marine Designs is a crew transfer vessel (CTV). It can transport up to 24 service technicians to and from offshore wind turbines in the North Sea and carry an additional 30 tons of deadweight, says Nils P. Olschner. All units will be hybrid-ready for easy and cost-efficient retrofitting of hybrid equipment. They will also be the first vessels in the offshore wind industry equipped with ballast water treatment plants.
SWATHs have an even larger deck area than a traditional catamaran and their superior seakeeping abilities are a major benefit to the crew and crew productivity while being also a matter of safety.
– The service technicians are not seasoned seamen and are therefore prone to sea sickness and fatigue on conventional vessels. This can be dangerous when they are working at sea and moving between turbines, transfer ships and the bigger service offshore vessels.
Nils P. Olschner is optimistic about Työvene's expansion into the offshore wind market.
– It is a fast-growing segment resulting in a shortage of supplies and vessels, so we see a lot of potential here, and not just in the offshore wind industry but also in the oil and gas industry.
Työvene's newbuilding activities in the commercial market are supported by Finnvera, the Finish state-owned export credit agency.
– The combination of expertise and competitiveness with the support from Finnvera makes us very attractive to the commercial market in general and the offshore wind industry in particular.
The first of Työvene's SWATHs will be delivered to Maritime Craft Services in the spring of 2025.
Facts:
Shipyard: Uudenkaupungin Työvene OY
SWATH design: Ad Hoc Marine Designs Ltd.
Customer: Maritime Craft Services (Clyde) LTD
Length: 29m
Speed: 22kts
Service Technicians: 24
Deadweight: 30t
Interested in more information?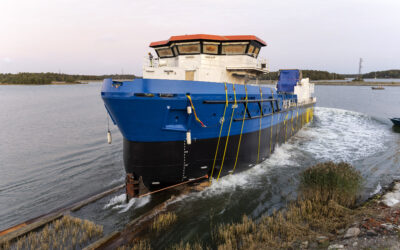 Työvene's first ever trailing suction hopper dredger (TSHD) was successfully launched on September 19, 2023.
read more