Västtrafik's ferries over Göta River
Thanks to a collaboration between Työvene and the public transportation company Västtrafik AB there is, since 2015, a sustainable and easy way for pedestrians and cyclists to cross the river dividing the city of Gothenburg.
The background
The Swedish City of Gothenburg is divided by the Göta river. On one side there is Hisingen Island – on the other the city centre. For a long time, the two bridges, Älvsborgsbron and Göta Älvbron were the only alternatives for pedestrians and cyclists to cross the river. But they are too heavily trafficked by cars, busses, and trams to do so easily. Since the Hisingen shoreline has seen fast-paced development in recent years, with new university buildings, office buildings and apartments, the need for a convenient and comfortable way to commute has increased. After concluding that a pedestrian bridge was going to be too disruptive to the boat traffic Västtrafik AB, the public transport company of Gothenburg, started looking at other solutions – ferries. – The ambition was to produce ferries that could fill the same needs as a bridge. One that easily could take on a lot of passengers and bikes, keeping a tight timetable while also having a low environmental impact, says Stefan Nord, Fordonsförvaltare at Västtrafik. Työvene won the tender amongst competitors all over Europe and after that, the work started with transforming plans into reality in close collaboration with Västtrafik.
Honest and straightforward communication
The first results of the collaboration were the two 33 m long passenger diesel-electric vessels Älveli and Älvfrida which were put into operation in 2015. As the ferries got more popular and the number of passengers increased by almost 40%, the city ordered a third ferry. The electric hybrid Elvy was put into service in 2019. Currently, there is a fourth electric vessel being constructed which is planned to be inaugurated in 2022 – Elouise. All the boats are built with a streamlined hull in steel and are ice-classed. Thanks to the aluminium and steel combination the ferries are lightweight and has a low centre of gravity. Stefan Nord, who has been the Fordonsförvaltare for building two of the four boats, is happy with the collaboration with Työvene and especially highlights the communication and the willingness to listen.
Since I came aboard this project, I have experienced straightforward communication, honesty, and high ambitions. Along the way, as in all projects, we have identified challenges and bumps in the road and worked well together to face them with success. Työvene has listened to our needs and thoughts with great responsiveness, says Stefan Nord.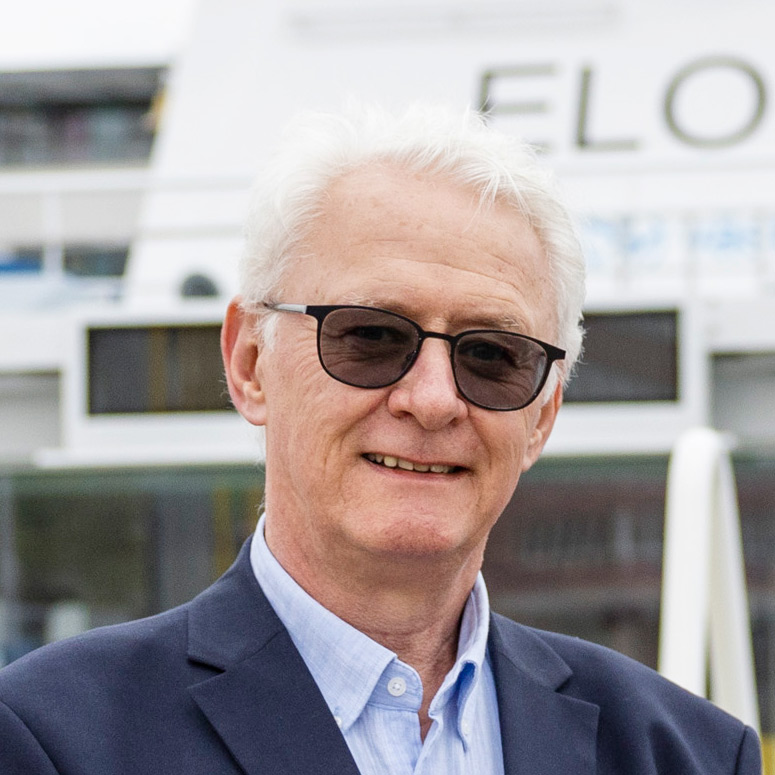 I have experienced straightforward communication, honesty, and high ambitions. We have identified challenges and worked well together to face them with success. Työvene has listened to our needs and thoughts with great responsiveness,
Älveli arriving at Lindholmen Foto: Kasper Dudzik
Double-ended ferries ensure efficiency and time accuracy
To ensure the ferries are an efficient alternative to a pedestrian bridge, the double-ended ferries are designed to enable a high passenger flow both from the open deck and passenger spaces. Insides the ferries are very open and spacious which makes it easy for both pedestrians and cyclists to board or disembark at each terminal. This is crucial for keeping the 6-minute traffic interval and the timetable. The ferries have a capacity of 289 people and 80 bicycles and are free of charge. In 2019 the ferries transported 2,4 million passengers over the river.
The ferries have been much appreciated by the city's travellers and that was our primary goal. We want public transport to be accessible, reliable, and comfortable and I believe that these ferries meet those requirements and that it is the reason for the success, Stefan Nord says.
If for some reason, a delay should occur, the ferries have a good capacity to increase the speed and catch up. Another benefit of using boats for public transportation is that the system is scalable and flexible. You can easily increase capacity by adding more boats or changing the route whenever necessary.
Low impact on the city and the environment
Choosing ferries instead of building a pedestrian bridge also have other benefits for the City of Gothenburg and its inhabitants. Building bridges demands extensive construction work and disruptions in the city planning. With ferries, minimal redevelopment of the city is needed since floating piers are sufficient infrastructure. In addition, there is no need for carbon dioxide intensive concrete. The first two ferries have diesel-electric engines while the last two are run solely by electric-hybrid engines – both of which have very low emissions. The new ferries also have battery banks on board which means that most of the time they can run entirely on renewable, clean energy.
Facts:
Use: The three ferries transported 2,4 million passengers over the river during 2019. In 2022, the capacity will be even higher, as Västtrafik has opted for a fourth ferry.
Design: Double-ended shuttle ferries with fast boarding and disembarkation.
Classification: Swedish Transport Agency, EU Area E, Swedish-Finnish Ice class 1B
Passenger capacity: 298 people and 80 bicycles.
Length: 32.99 meters.
Maximum width: 8.71 meters.
Maximum speed: 11 knots.
Propulsion: Rolls Royce Azimuth double counter-rotating trust propellers, rotatable 360 degrees – one at each end.
Diesel-electric engine: Two Scania DI09 with 2 x 350 hp (2 x 257 kW) and particulate filter.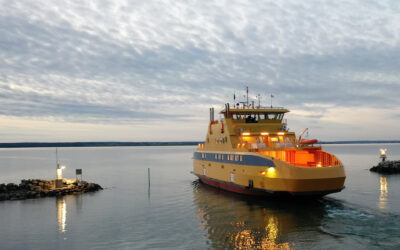 This is the story of how the ferry Braheborg came into existence through the magic of project management, and how Työvene moved part of it's construction capability to the center of Sweden.
read more