A sustainable bridge made of hybrid ferries
Ferries from Finland connects the Swedish city of Gothenburg and contributes to a sustainable future.
In the Swedish city of Gothenburg, they needed a quick way for cyclists to cross Göta river that flows straight through the city. The municipality first idea was to build a bridge. But that soon turned out to be too expensive.
Instead, they went with another solution: A bridge made of electric double-ended shuttle ferries from Uudenkaupungin Työvene Oy.
Thanks to the ferries, cyclists and pedestrians can easily get through Gothenburg and across the river in 6 minutes, instead of taking time-consuming detours.
The use of electric ferries also provides many benefits for Gothenburg compared to a bridge:
Lower environmental impact – No need for carbon dioxide intensive concrete.
Low emissions – Diesel-electric and electric hybrid engines with low emissions.
Minimal redevelopment of the city – Floating piers are sufficient infrastructure, no need to redevelop the city.
Scalable – Possible to add more ferries if needed.
Flexible route – The route can be changed – partially or completely – if necessary
The first two ferries from Uudenkaupungin Työvene Oy, Älveli and Älvfrida with very low weight, streamlined hull and diesel-electric propulsion, were put into operation in 2015. As the ferries got more popular and the number of passenger increased with almost 40 percent, the city ordered a third ferry, Elvy with electric hybrid operation, that was put into service in 2019.
The three ferries transported 2,4 million passengers over the river during 2019. In 2022, the capacity will be even higher, as Gothenburg has opted for a forth ferry – another vessel with electric hybrid propulsion.
Facts
Electric ferries in Gothenburg
The ferries operates line 286 (called "Älvsnabbare") across the Göta river in Gothenburg.
Design: Double-ended shuttle ferries with fast boarding and disembarkation.
Passenger capacity: 298 people and 80 bicycles.
Length: 32.99 meters.
Maximum width: 8.71 meters.
Maximum speed: 11 knot.
Propulsion: Rolls Royce Azimuth double counter-rotating trust propellers, rotatable 360 degrees – one at each end.
Diesel-electric engine: Two Scania DI09 with 2 x 350 hp (2 x 257 kW) and particulate filter.
Electric hybrid: Battery pack of 1 008 kWh and a 250 kW Scania DI-13 bio-diesel generator.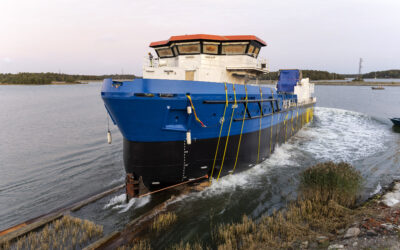 Työvene's first ever trailing suction hopper dredger (TSHD) was successfully launched on September 19, 2023.
read more