Another tailor-made speciality vessel launched at Työvene shipyard
Työvene's first ever trailing suction hopper dredger (TSHD) was successfully launched on September 19, 2023. The vessel will be used to maintain the depth in the Vistula Lagoon Canal and fairway in Poland.
All  images from the launch Photo: Kasper Dudzik
The Trailing Suction Hopper Dredger, named Ursa, is a steel construction made to withstand a high level of wear and tear. The vessel is also tailor-made and designed to facilitate the very specific requirements put in place by the Maritime Office in Gdynia.
– Among other things the vessel must be able to conduct dredging operations in very shallow waters, says Antti Vikainen, project manager at Työvene.
This is the first time Työvene has built a dredger and to make sure that the highest standards were met Työvene cooperated with two Dutch companies with expertise in in the field: C-Job is a design company with experience in dredger designs and Holland Marine Technologies BV is supplying the dredging related equipment.
– Työvene is always looking to expand into new segments, and building dredgers has the potential to broaden our customer base and create new business opportunities, says Juha Granqvist, CEO of Työvene.
Interested in more information?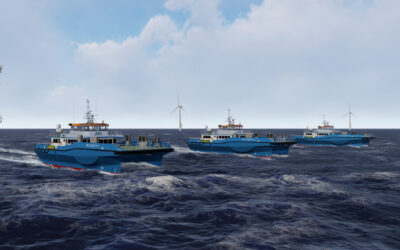 Työvene has secured an order for three hybrid-ready SWATH CTV's., and thereby enters into the offshore wind market.
read more